Note! If you're not interested in the primer and just want to read our guide, then scroll down to "Your business digital guide - getting things right from the start".
Are you thinking of starting a business? Or have you been an entrepreneur for a while, but the online side is not your strong point? In this digital guide for entrepreneurs, I'll tell you what a budding entrepreneur should consider in the digital age.
In this article, I answer at least the following questions:
How do I set up a websites for my business?
Where can I find a working email for my business?
How do I get my company's security right?
Which online services should I use?
How do I manage online advertising?
Starting a business is exciting and usually quite a leap into the unknown. It takes a lot of courage and passion for an entrepreneur to get the job done. To get your business off to a good start, it's a good idea to focus on doing as much as possible right from the start. In the age of digitalisation, it is increasingly important to keep up with modern technology and use it to your advantage. Today, 4.648 million people worldwide use the internet. That's 59.6% of the world's population. Now more than ever, it is important for companies to focus on digitalisation.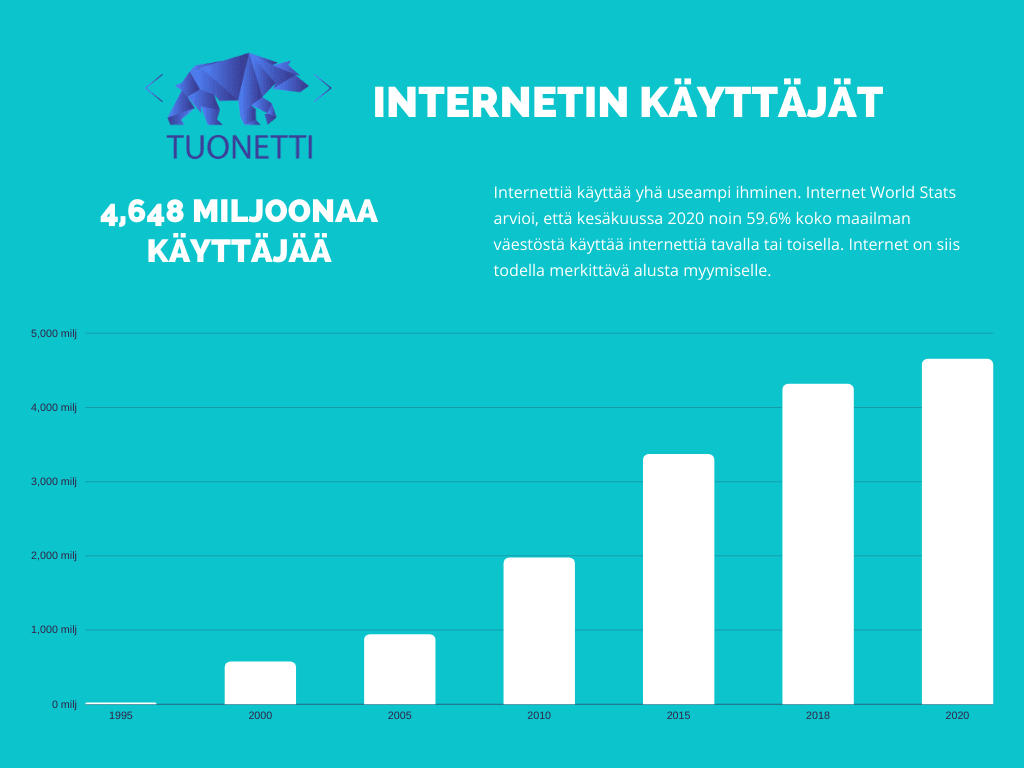 Setting up a business
In this article, we want to focus specifically on the digitalisation of business and guide entrepreneurs to make better decisions online. If you are completely unfamiliar with the concept of entrepreneurship, but have decided to start a business, I recommend that you read the Finnish Entrepreneurs' Association's guide to starting a business first.
A digital guide for your business - getting things right from the start
1. Website
Every company should have a websites. And every business should have a websites that can be found online. The first point is easy, but finding it online is not always obvious. You can read our article on why a business should have a websites.
You can set up a website yourself or outsource it to another company. It is important to define what kind of pages you need. If the most important thing for your business is to direct customers to the right address or to call you at the right number, then a very simple information page will work. You can build such simple pages yourself, for example with the help of a website builder. Here are a few options:
But consider carefully: is your business likely to expand in the first few years? The main weakness of a website engine is the lack of scalability and the fact that you will not own your website. You can't move them out of the services and you can't make any complex changes to them.
Another option is to learn how to build pages using WordPress, for example. It's not very difficult, but it will take time, and the results won't be very good at first. An even bigger problem than the above is data security. More on this later.
There are many WordPress experts in Finland and many companies that offer website building with WordPress. If you want to save time and possibly even money, we recommend outsourcing your website to someone who knows how to do it. Read also our article on why WordPress websites are a good choice for your business.
Remember also that the website must be maintained. All system updates must be done on time or you risk the security of your site. You can do this yourself or outsource it. For example, we offer affordable WordPress maintenance.
Also, start thinking about search engine optimisation right from the start. Search engine optimisation is an inexpensive way to increase your visibility. It takes several months, if not years, to increase visibility through this method, but it is a very good investment. Check out our free search engine optimisation guide.
Website hosting
Websites need a home, or server. The most common way to maintain a website is to buy an inexpensive web hosting, where several different websites are hosted on one server. Webhotels usually also come with a bunch of mailboxes. We recommend that you choose a Finnish company that offers web hosting.
If you expect more traffic to your website or are setting up an online shop, it would be important to invest a little in your server. Hosted VPS services are a good solution. An example of this is our WordPress Cloud.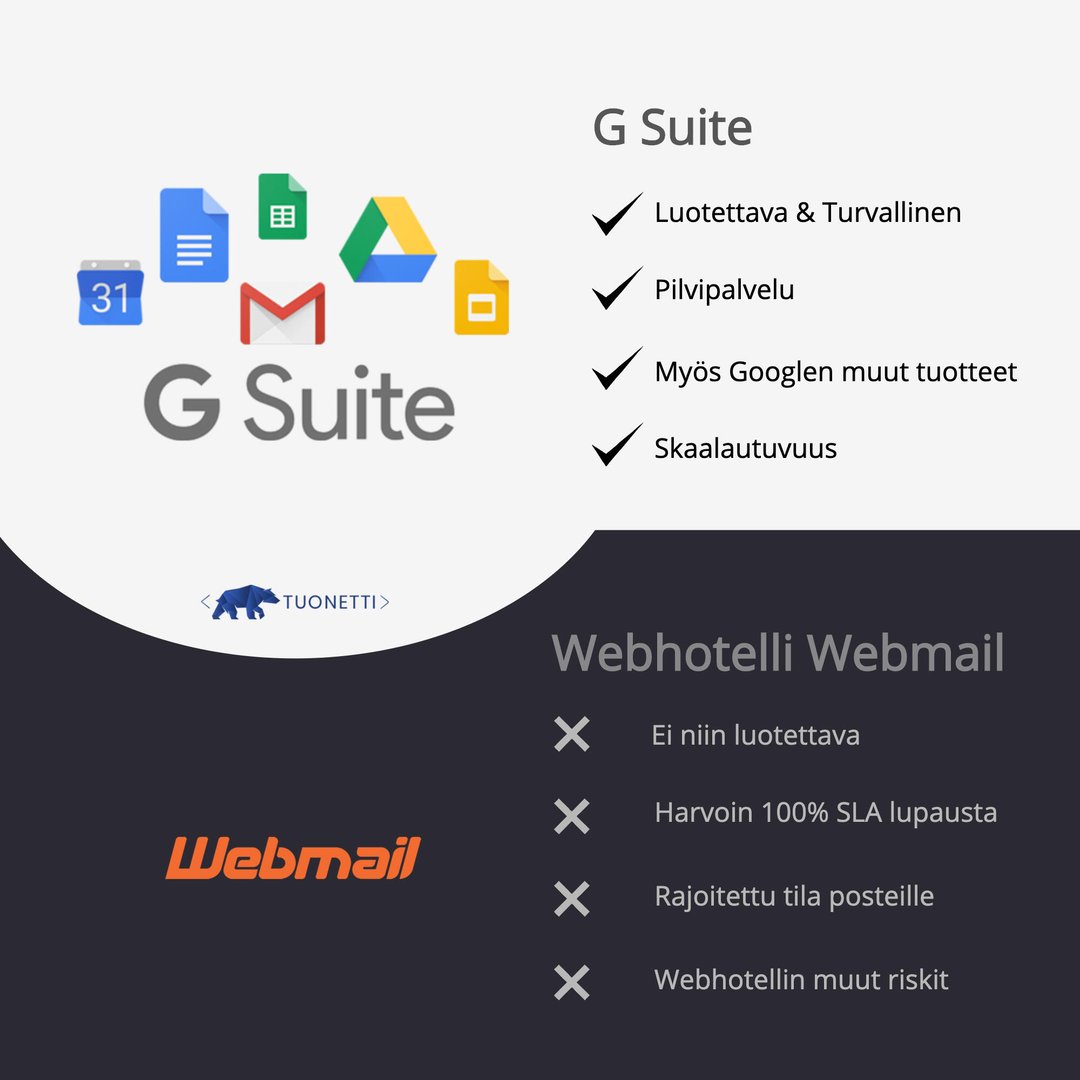 2. Email
Don't make the mistake of getting an @gmail.com address for your business. However, email will be one of the tools you use the most, so get a proper business email right from the start. Web hosting emails are not a reliable option, especially if your business is centred around email. The main problem with web hosting email is the server's credibility in the eyes of the big email brokers. For example, Microsoft really easily blocks the sending of email from web hostingmail to outlook.com, live.com or any of their other emails. Even if web hostingemail is working fine today, it could stop delivering messages tomorrow. This may not even be because the service provider has done something wrong. It is enough that the web hostingis used by someone who intentionally or due to a virus sends spam to other addresses. This behaviour can cause large mail brokers to move the IP address of the server to the block list and emails will no longer go through.
Google and Microsoft are selling enterprise solutions that work, with emails that work really reliably. We recommend Google Workspace itself, which we also resell. It gives you all the familiar Google services on your own domain.
3. Information security
At its best, starting a business is really fun and rewarding. However, there are a few compulsory evils that you need to take care of. One of them is information security. Don't neglect your company's data security. You will certainly maintain a customer register, which may contain very specific information about your customers. You don't want to find yourself in a situation where these situations are leaked to a third party and you have to report a security breach.
Password monger
Implement a password manager right away to manage all the passwords for all the services your company uses. The password manager helps you to use only really strong passwords. You only need to remember one password! Read our article on password managers and find the right one for you.
Two-step authentication
Two-factor authentication, or 2FA, is an absolutely essential feature that should be enabled on all services where it is supported. The way 2FA works is that when you log in to the service, you have to authenticate with a separate one-time password after the password. Depending on the service, the one-time password will be sent to you by SMS, email or a separate application such as Google Authenticator. Even if someone gets your password to the service, they still have to get that one-time password. Read our article on two-step authentication and how to implement it in the most common services.
Website security
Do you run an online shop or have forms on your website to contact you? Make sure your site is secure enough. This is to protect yourself and your customers. If you build and maintain your own website, learn more about website security and how to better protect it. If you buy websites from an external provider, make sure that the provider also takes security into account.
4. Services to help your business
Here's a quick checklist of services you should introduce to your business from the start.
The list could go on and on, but we recommend that you find the right services for your business. You should always think about the problem you are trying to solve and look for different services.
5. Advertising online
It's easier than ever to promote your business online. It is also easier than ever to do wrong. The biggest advertising services are Google Ads and Facebook Ads. These two services are certainly sufficient to get you started and, depending on the sector, you will certainly benefit from them.
Google search engine advertising
In simple terms, you decide the keywords you want your business to appear for and pay for it. Ads in Google search results are displayed first, and only organic search results appear below them. Search engine marketing can be very expensive. The price depends mainly on how much people search for that particular keyword in Google's search engine. One click on your ad can cost a few cents at the lowest, but at the highest it can cost several euros. So it's really important that the link in your ad takes you to a page that is sure to sell.
Facebook and Instagram ads
If you sell physical products, these services work really well. Facebook ads can be turned on to Instagram at the same time. These ads are "Sponsored" posts that appear between users' feeds. A good Facebook ad is a really cheap option. At best, several clicks cost only cents. Facebook ads are worth trying with small budgets to start with and see which ones do well. Good ads can then be displayed for more money.
Press release
If your company is new and you have a great innovation behind it, I recommend you make a press release. It's an easy way to get a little more visibility right from the start. So get in touch with your local news agencies.
Summary
Changing systems at the point when your company's day-to-day operations start to get busy is really difficult. For example, an email transfer can cut off your email access for hours. It is therefore advisable to choose services that are scalable to your business from the outset. Setting up a business and choosing digital services need not be difficult. It's always a good idea to bring in a specialist in the field to help with choices and deployments. If you are wondering what the best solution for your business is, please contact us. We are happy to help!