After many years, email is still the most used form of communication in business. It is therefore important that messages flow smoothly from one server to another. The most common solutions to this are, either the webhotel email that comes with the webhotel, the free @gmail.com, @outlook.com or something similar. A third option is a cloud solution such as Google Workspace (formerly G Suite) or Microsoft Office 365.
In this article, we will go through the main differences between these services and open up a little about the delivery and reception of emails. We also answer the question: why do the emails I send always go to spam? This article is not about sending newsletters or large distributions.
Web hosting email
When you buy a web hosting service for your company's website, the package usually includes a web hosting email. This is a cost-effective solution and if your company's email traffic is comparatively low, this will work well enough in many cases. The main weakness of web hosting email is occasional delivery problems.
Delivering an email successfully
To ensure that mail is successfully delivered to the recipient's mailbox and not directly to spam, the sending server must follow a few rules. Depending on the host server, the settings and rules can be very strict in some cases. If the sending server does not comply with the conditions of the receiving server, the sending IP address may be blacklisted.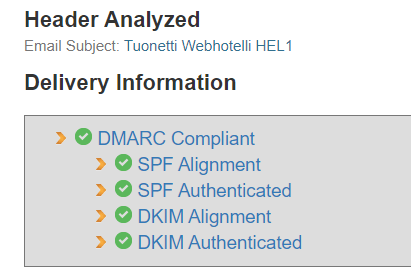 Microsoft, for example, forces senders to follow very strict rules to ensure that mail is delivered to the mailboxes on their servers. A failed submission will be placed on Microsoft's block list, from which you can request removal once the server is complying with their terms again.
A webhosting site has several users and usually only one IP address. Many public blocking lists work precisely on the basis of the reputation of the IP address. If there is a lot of spam being sent from an IP address, the IP address will be blocked. The main weakness of web hosting email is that if another person using the same web hosting messes up, everyone suffers.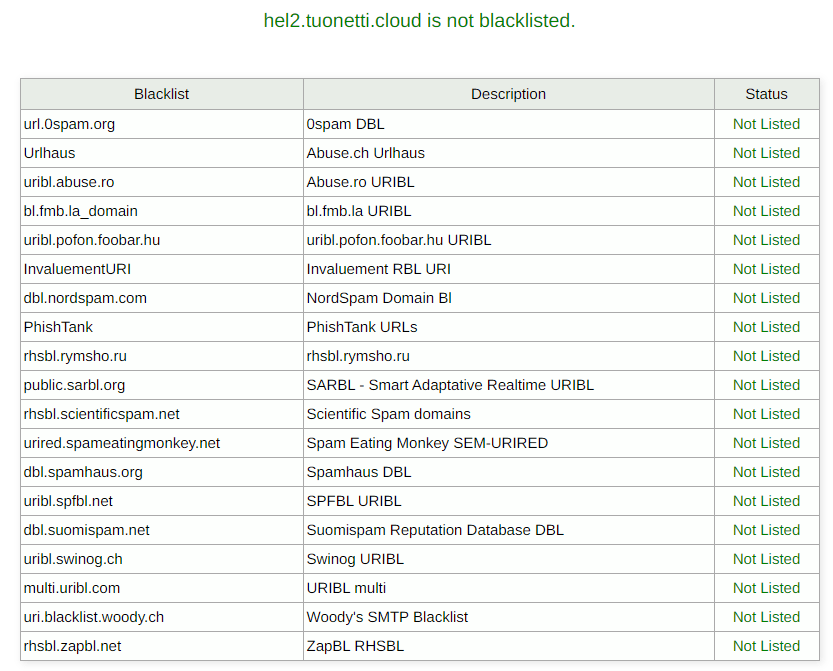 Web hosting email pros and cons
Pros
Affordable, included in the price of the webhotel.
Quick and easy to set up if the domain name is ordered from the same provider or from the same provider.
Can mostly be used with the email client of your choice.
Easy to integrate, for example, into the form submission of a WordPress site.
Cons
The deliverability of emails may be unreliable.
The reputation of the server's IP address may be affected by other customers of the webhosting service. As a result, the server may be placed on block lists.
Data security not necessarily at the best level.
Spam filters can be too weak or too aggressive.
Summary
Web hosting email is an easy way to get an email with your own domain name for your business. The price is low and deployment is often easy. The deliverability of emails can be easily affected and the reputation of the outgoing mail can be affected by other customers of the webhosting server. We recommend this solution when your company's main tool is not email or your company's main business is not to operate online.
Free email from Google or Microsoft
It is recommended to create your own @gmail.com and @outlook.com email addresses for your company. These make it easy to use Google and Microsoft services. For example, at [email protected] you can enable Google Analytics, Search Console and My Business accounts. These accounts also work well as back-up emails, for example if your webhosting email gets stuck.
However, we do not recommend using free email as the main means of corporate communication if the activity is of a more serious nature. A company email with a free mail extension does not convey professionalism. Big players may well be alienated by a company that only has a free @gmail.com or @outlook.com email address.
Pros and cons of free email
Pros
Free of charge.
Easy and quick to set up.
The deliverability of emails is generally quite good.
Cons
Emails sent with large distributions are easily spammed.
It doesn't look professional.
Summary
Free emails are often targeted at consumers and do not offer important features for businesses. However, these services are very useful to have on standby in case your main email fails for some reason at a critical moment. Generic @gmail.com or @outlook.com extensions do not inspire trust in other companies. Seriously consider using a free email service for your company's main communications.
Google or Microsoft cloud solutions
Google is the largest email broker in the world. Microsoft comes in a close second. So these two parties must know a thing or two about the delivery of emails. Both companies have very popular cloud services, which also include corporate email. Both services have excellent reputations and the delivery times are first class. However, both services are clearly more expensive than, for example, web hosting email.
Both of these services operate in the same familiar environment as the free versions, but under their own domain names. So, for example, in Google Workspace you can use the familiar Gmail application, but the emails you send come from "[email protected]", for example. These services usually include team calendars, cloud storage and many other cloud tools.
We are an official Google Cloud Partner and broker for Google Workspace business solutions. Check out Google Workspace here.
Pros
A familiar free service environment, but with your own domain name.
The deliverability of emails is at a good level.
Really effective and learning spam filters.
Group email configuration and complex forwarding.
Very high level of security.
Easy integration with external services.
Cons
Price can be a barrier for smaller entrepreneurs.
Getting up and running can be tricky, but with a partner company, it's a breeze.
Summary
Enterprise solutions offered by large companies are almost always the best solution for managing your company's emails. If your business is mainly online, we strongly recommend you choose a better email environment. These cloud services also include a host of other tools that make your company's digital life much easier. We recommend that you get to know and contact a Finnish broker.